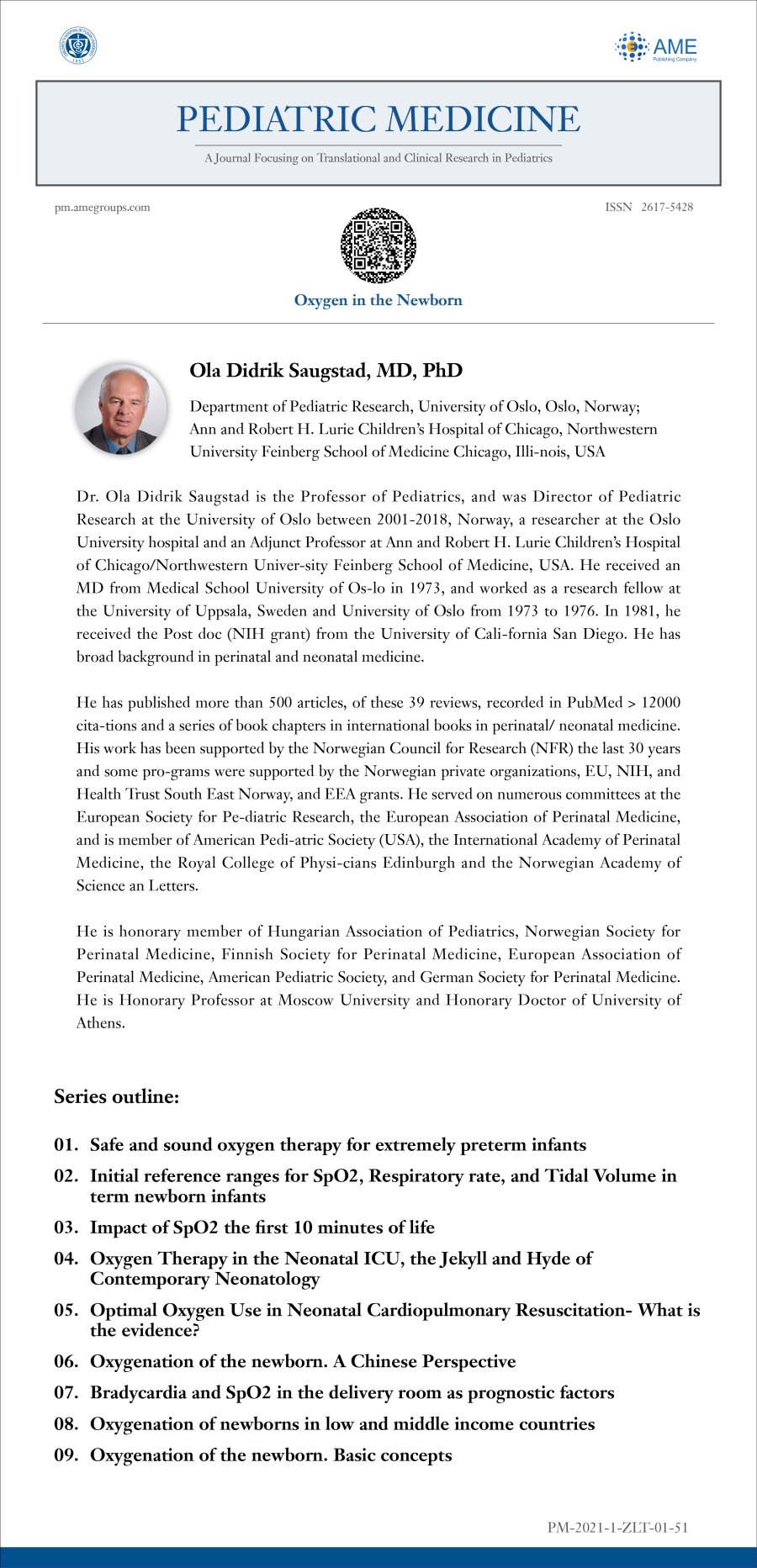 This series on "Oxygen in the Newborn" is edited by Dr. Ola D. Saugstad, University of Oslo, Oslo, Norway; Ann and Robert H. Lurie Children's Hospital of Chicago, Northwestern University Feinberg School of Medicine Chicago, Illinois, USA
Ola Didrik Saugstad, MD, PhD
Department of Pediatric Research, University of Oslo, Oslo, Norway; Ann and Robert H. Lurie Children's Hospital of Chicago, Northwestern University Feinberg School of Medicine Chicago, Illinois, USA
Dr. Ola Didrik Saugstad is the Professor of Pediatrics, and was Director of Pediatric Research at the University of Oslo between 2001-2018, Norway, a researcher at the Oslo University hospital and an Adjunct Professor at Ann and Robert H. Lurie Children's Hospital of Chicago/Northwestern University Feinberg School of Medicine, USA. He received an MD from Medical School University of Oslo in 1973, and worked as a research fellow at the University of Uppsala, Sweden and University of Oslo from 1973 to 1976. In 1981, he received the Post doc (NIH grant) from the University of California San Diego. He has broad background in perinatal and neonatal medicine.
He has published more than 500 articles, of these 39 reviews, recorded in PubMed > 12000 citations and a series of book chapters in international books in perinatal/ neonatal medicine. His work has been supported by the Norwegian Council for Research (NFR) the last 30 years and some programs were supported by the Norwegian private organizations, EU, NIH, and Health Trust South East Norway, and EEA grants. He served on numerous committees at the European Society for Pediatric Research, the European Association of Perinatal Medicine, and is member of American Pediatric Society (USA), the International Academy of Perinatal Medicine, the Royal College of Physicians Edinburgh and the Norwegian Academy of Science an Letters.
He is honorary member of Hungarian Association of Pediatrics, Norwegian Society for Perinatal Medicine, Finnish Society for Perinatal Medicine, European Association of Perinatal Medicine, American Pediatric Society, and German Society for Perinatal Medicine. He is Honorary Professor at Moscow University and Honorary Doctor of University of Athens.
Series outline:
Safe and sound oxygen therapy for extremely preterm infants
Initial reference ranges for SpO2, Respiratory rate, and Tidal Volume in term newborn infants
Impact of SpO2 the first 10 minutes of life
Oxygen Therapy in the Neonatal ICU, the Jekyll and Hyde of Contemporary Neonatology
Optimal Oxygen Use in Neonatal Cardiopulmonary Resuscitation- What is the evidence?
Oxygenation of the newborn. A Chinese Perspective
Bradycardia and SpO2 in the delivery room as prognostic factors
Oxygenation of newborns in low and middle income countries
Oxygenation of the newborn. Basic concepts
Disclosure:
The series "Oxygen in the Newborn"was commissioned by the editorial office, Pediatric Medicine without any sponsorship or funding. Ola Didrik Saugstad served as the unpaid Guest Editor for the series.