Editorial
Executive summary with focus on pediatrics: therapeutic monitoring of vancomycin for serious methicillin-resistant Staphylococcus aureus infections: a revised consensus guideline and review by the American Society of Health-System Pharmacists, the Infectious Diseases Society of America, the Pediatric Infectious Diseases Society and the Society of Infectious Diseases Pharmacists
Pharmacokinetic and outcomes studies on vancomycin have emerged in neonates and pediatrics since the publication of the first adult-focused consensus guideline for the therapeutic monitoring of vancomycin in 2009. Developed by a committee representing the American Society of Health-Systems Pharmacists, Infectious Diseases Society of America, the Society of Infectious Diseases Pharmacists and newly-integrated Pediatric Infectious Diseases Society, this updated consensus revision evaluates the current evidence and scientific data associated with vancomycin dosing and monitoring for serious methicillin-resistant Staphylococcus aureus (MRSA) infections and provides new recommendations based on recent available evidence in neonates infants and children, with extrapolation of adult data when pediatric studies are limited (Tables 1,2).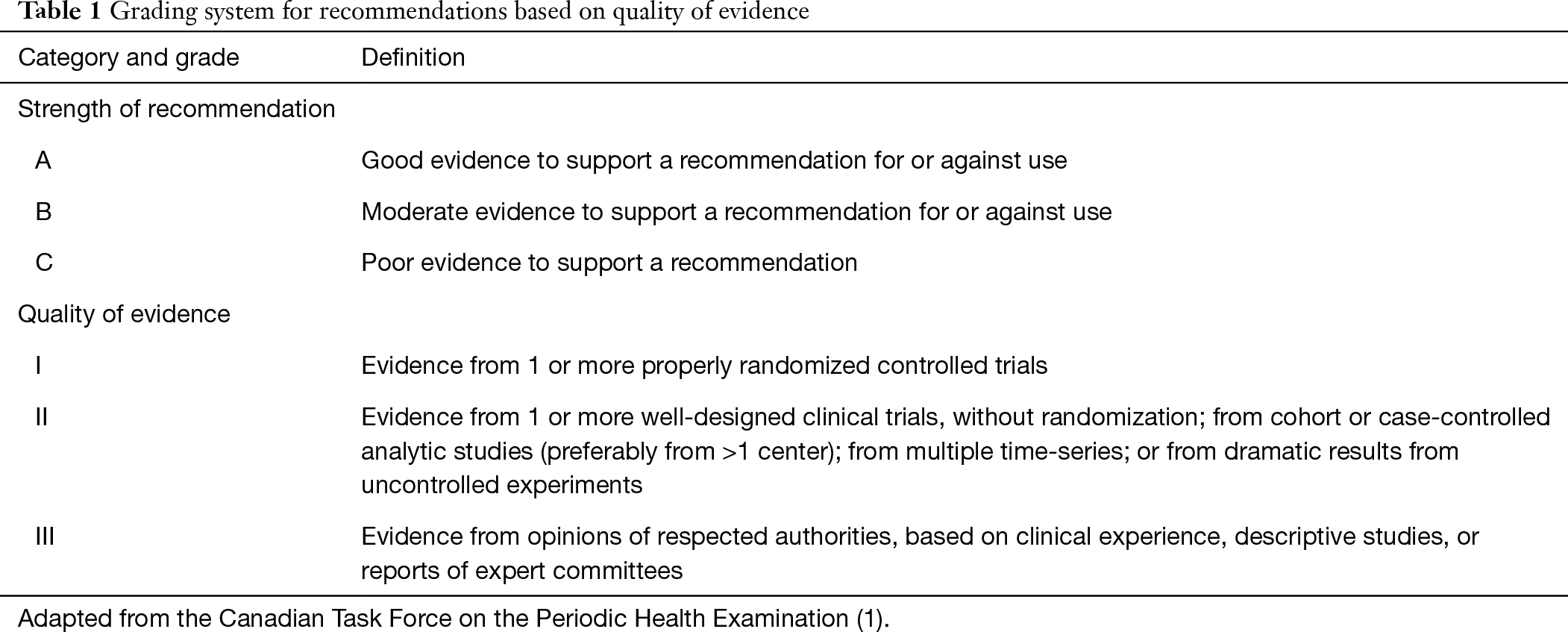 Table 1
Grading system for recommendations based on quality of evidence
Full table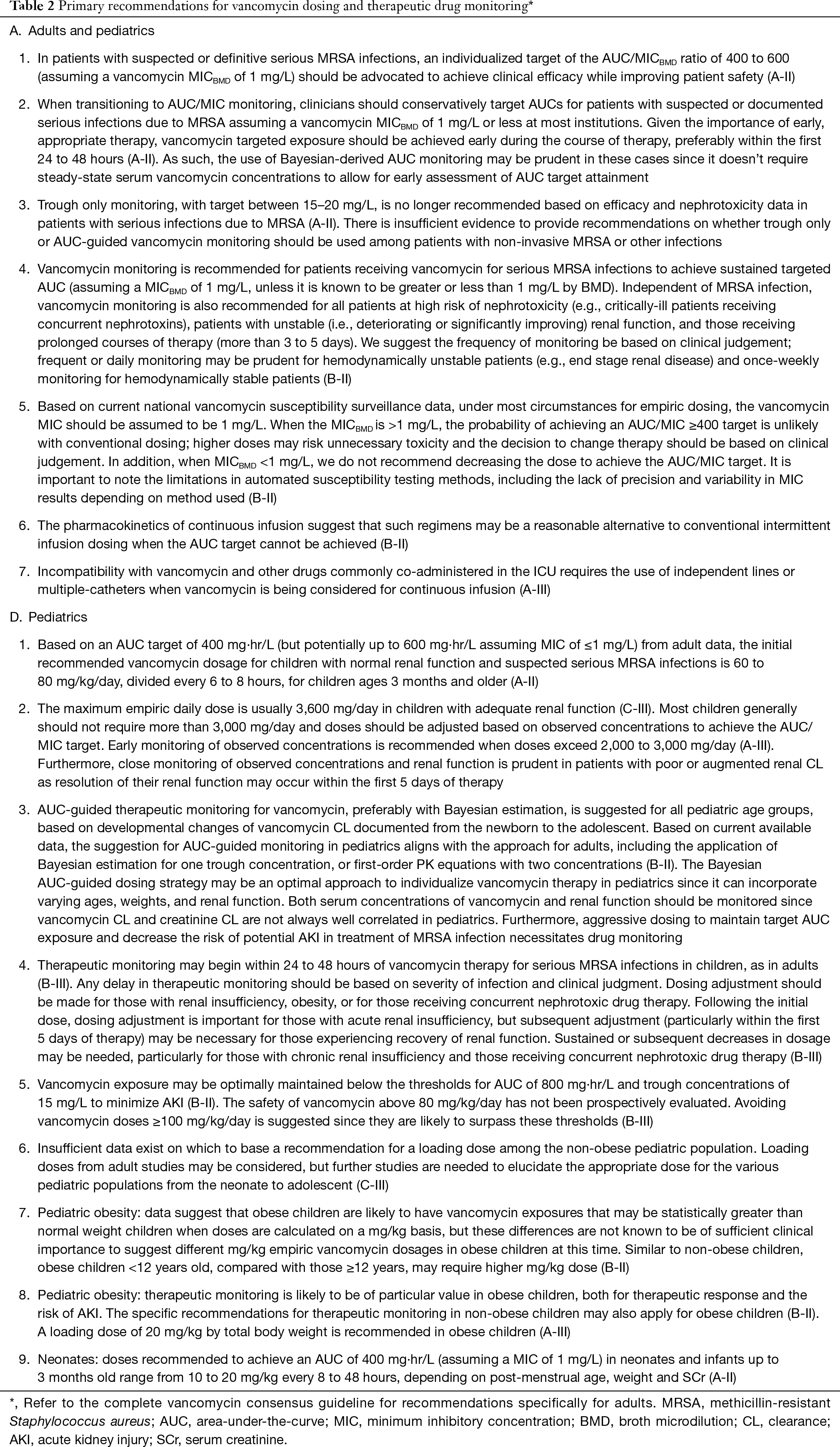 Table 2
Primary recommendations for vancomycin dosing and therapeutic drug monitoring*
Full table
The previous consensus guidelines recommended a trough target of 15–20 mg/L to facilitate the management of patient therapy and simplify dose adjustment and monitoring. However, since the implementation of this recommendation, reports of increased risk of nephrotoxicity have been published in both pediatrics and adults, especially when trough level monitoring was applied. Notably, this trough target was not the primary pharmacokinetic/pharmacodynamic (PK/PD) target in the original outcomes studies; it only served as a surrogate marker for the area-under-the-curve over-24-hour to minimum inhibitory concentrations (AUC/MIC) target of 400 mg·h/L that was statistically associated with improved clinical outcomes in adults with MRSA infections. In addition, since the publication of the first consensus guideline, neonatal and pediatric studies have demonstrated that vancomycin AUC/MIC, compared with trough concentrations, is a realistic target that acknowledges the impact of the MIC's of vancomycin from the child's MRSA isolate. In fact, one of every four children who actually achieved the AUC/MIC target exposure were still below the previously-recommended trough target of 15–20 mg/L, placing these children at risk for increased and unnecessary exposure if subsequent therapeutic dosing was based on measured trough concentrations. Importantly, an AUC/MIC of 400 was shown to correspond to trough concentrations of ~7–11 mg/L in neonates and children. Recently, PK/PD and toxicodynamic studies have also demonstrated a significantly reduced risk of vancomycin nephrotoxicity when AUC/MIC monitoring was employed versus traditional trough monitoring. In light of these considerations, the approach to monitoring vancomycin therapy by AUC/MIC rather than trough concentrations, is believed to be the safer and more pharmacokinetically-accurate goal that ensures the use of the minimum effective dose of vancomycin in neonates, infants and children.
Assuming that the clinical and microbiologic outcomes with vancomycin therapy for serious MRSA infections are similar for children and adults, the extrapolation of outcomes studies in adults is reasonable until prospective, comparative outcomes data in children using AUC/MIC vs. trough concentration monitoring are presented. As such, dosing in children should be designed to achieve an AUC/MIC of 400 based on serum exposure of vancomycin. However, vancomycin exposures at the site of infection with MRSA in children (osteomyelitis, pneumonia/empyema, pyomyositis) may actually require higher serum exposures (potentially up to 600 mg·hr/L for a MIC of 1 mg/L) but no data exist for outcomes with a range of defined exposures at different tissue sites. Renal function [and therefore vancomycin clearance (CL) is also more robust] in children than adults, suggesting that an increased weight-based dose may be required to achieve a similar exposure in adults and thus provides additional support for the need for early monitoring of vancomycin exposure. The PK/PD target of AUC/MIC of 400 has been widely used by investigators to model pediatric dosing and therapeutic monitoring. With no PK/PD studies and outcomes data to support the higher exposure (AUC/MIC of 600) in pediatrics, it is reasonable to aim for an AUC/MIC 400 in pediatrics to limit the development of exposure-related acute kidney injury (AKI). With the variability of vancomycin serum exposure noted in children given an identical dose, linked to the variability of vancomycin MIC's in MRSA, an AUC/MIC-guided approach to monitoring and dosing, preferably using two post-dose concentrations with Bayesian estimation to ensure the use of the minimum effective dose, is recommended.
Similar to adults, the aggregate literature in pediatrics suggests that the risk of nephrotoxicity increases as a function of vancomycin exposure, especially when trough concentration exceeds 15–20 mg/L. A continuous exposure-response relationship for toxicity was also observed with AUC; even after adjusting for stay in the intensive care unit and concomitant use of nephrotoxic drugs, AUC ≥800 mg·hr/L was independently associated with an increased risk of AKI. The linkage of AUC to nephrotoxicity, along with the strong correlation between AUC and trough concentrations reinforces AUC as a reasonable PK/PD parameter for therapeutic monitoring that encompasses both therapeutic exposure and toxic responses. For situations in which vancomycin MIC's are 2 or greater, often requiring doses above 80–100 mg/kg/day to achieve the AUC/MIC exposure of 400, alternative antibiotics active against MRSA should be considered.
Recent studies highlight the importance of estimating AUC values through Bayesian techniques to improve the accuracy in predicting vancomycin exposure-outcomes and safety in patients. To best estimate a specific patient's exposure profile, Bayesian-guided monitoring quantifies the sequential relationship between the population-based "prior" of an individual patient's PK parameter values (Bayesian prior) and the revised patient's PK parameter values derived using exact dosing and drug concentration data (Bayesian conditional posterior). The advantages of this monitoring approach are three-fold: (I) early collection of concentrations within the first 24 to 48 hours, rather than waiting until steady-state conditions; (II) incorporation of factors that account for "dynamic" changes that may occur in critically-ill patients to optimize effect and predict future dosing; and (III) generation of accurate and reliable estimates of daily AUC values using trough-only PK sampling (albeit the preferred method is two post-dose serum concentrations of peak and trough to improve safety).
Almost all data available on vancomycin PK/PD and toxicodynamics have been derived from patients who have been treated for serious infections caused by MRSA; we believe that these data should not be routinely applied to non-serious MRSA infections, and to less virulent organisms causing other infections (e.g., Staphylococcus epidermidis in neonates) that may require vancomycin therapy. The recommendations in the revised guideline should not replace sound clinical judgement in managing patients who require vancomycin therapy. Specific details pertaining to empiric and definitive treatment dosing in neonates, children and obese children, along with optimal monitoring of AUC, are provided in the Guidelines (2). The complete vancomycin guideline can be cited and accessed via https://academic.oup.com/ajhp/advance-article/doi/10.1093/ajhp/zxaa036/5810200.
---
Acknowledgments
Funding: None.
---
Footnote
Provenance and Peer Review: This article was a free submission to the journal. The article did not undergo external peer review.
Conflicts of Interest: All authors have completed the ICMJE uniform disclosure form (available at http://dx.doi.org/10.21037/pm-20-54). Dr. AWB received a grant from Merck & Co. and consulted for Rempex Pharmaceuticals, INSMED, Merck & Co., Nabriva Therapeutics, GlaxoSmithKline, Paratek Pharmaceuticals, Achaogen, Inc., Bayer HealthCare, and SIGA Technologies. Dr. JSB served on a planning committee for the US Food and Drug Administration and European Medicines Agency at the American College of Clinical Pharmacy's annual meeting; participated in the design of a pediatric clinical trial; served on an executive committee for the United States Committee on Antimicrobial Susceptibility Testing; and consulted for Achaogen, Allergan, ContraFect, GlaxoSmithKline, Janssen, Melinta, Merck, Nabrive, Pfizer, Theravance, and Zavante. Dr. CL received a research grant from Nohla Therapeutics and was a member of an Independent Efficacy Adjudication Committee with Theravance. Dr. JL received research awards from the Sternfels Prize for Drug Safety Innovation, Duke University, the National Institutes of Health (NIH) and National Institute of Child Health and Human Development, and JMI Laboratories; was an invited advisory board member for FDA, the Asian Pacific Health Foundation, and Infectious Diseases and Therapy journal; serves as an unpaid editorial board member of Pediatric Medicine from Oct 2019 to Sep 2021. Dr. DPL served on the data safety monitoring board for Contrafect and served on an adjudication panel for Novartis. Dr. TPL received grants from the Antibiotic Resistance Leadership Group (ARLG), Merck & Co., and Motif Bio PLC; served as a health outcomes project consultant for Paratek Pharmaceuticals, Allergan, Merck & Co., and Melinta Therapeutics; served on advisory boards for Paratek Pharmaceuticals, Motif Bio PLC, Achaogen, Nabriva, and Tetraphase; served as a consultant to Paratek Pharmaceuticals, ARLG, Allergan, Merck & Co., Melinta Therapeutics, Motif Bio PLC, Achaogen, Nabriva, and Tetraphase; and was a speaker for Melinta Therapeutics, Tetraphase, and Sunovion. Dr. HDM served as an international working group member for the European Cystic Fibrosis Society and North American Cystic Fibrosis Society, served on an advisory panel for the Centers for Disease Control and Prevention and Pew Charitable Trust, and was on a committee for the Arkansas Health Department. Dr. BAM received research grants from Merck & Co. and Hope Pharmaceutical and served on an advisory board for NxStage and Baxter. Dr. MPP received a grant from Merck, Inc., served on an advisory board for Shinogi and Paratek Pharmaceuticals, and served on the meet the professor program for Merck. Dr. KAR received a grant from Theravance Biopharm, NIH, ARLG, and Allergan; consulted for BLC, Entasis, Merck, Paratek Pharmaceuticals, Shionogi, Tetraphase, and Wockhardt; was a speaker at the American Society for Microbiology and European Society for Clinical Microbiology and Infectious Diseases ASM/ESCMID conference; served on the 2015–2019 Program Committee and was 2016–2018 Program Co-Chairperson for the American Microbiology Society; and was a member of the 2017–2019 Antimicrobial Resistance Committee for IDSA. Dr. MJR received research grants from Bayer Pharmaceuticals, the NIH Research Project Grant (RO1) Program, Merck, Allergan, the Michigan Department of Health and Human Services, Accelerate Diagnostics, Inc., NIH, Contrafect, Motif Biosciences, and the Michigan Translational Research and Commercialization Program; and served as a grant review panel member for NIH. The other authors have no conflicts of interest to declare.
Ethical Statement: The authors are accountable for all aspects of the work in ensuring that questions related to the accuracy or integrity of any part of the work are appropriately investigated and resolved.
Open Access Statement: This is an Open Access article distributed in accordance with the Creative Commons Attribution-NonCommercial-NoDerivs 4.0 International License (CC BY-NC-ND 4.0), which permits the non-commercial replication and distribution of the article with the strict proviso that no changes or edits are made and the original work is properly cited (including links to both the formal publication through the relevant DOI and the license). See: https://creativecommons.org/licenses/by-nc-nd/4.0/.
---
References
The periodic health examination. Canadian Task Force on the Periodic Health Examination. Can Med Assoc J 1979;121:1193-254. [PubMed]
Rybak MJ, Le J, Lodise TP, et al. Therapeutic monitoring of vancomycin for serious methicillin-resistant Staphylococcus aureus infections: a revised consensus guideline and review by the American Society of Health-System Pharmacists, the Infectious Diseases Society of America, the Pediatric Infectious Diseases Society, and the Society of Infectious Diseases Pharmacists. Am J Health Syst Pharm 2020;77:835-64. [Crossref] [PubMed]
doi: 10.21037/pm-20-54
Cite this article as: Rybak MJ, Le J, Lodise TP, Levine DP, Bradley JS, Liu C, Mueller BA, Pai MP, Wong-Beringer A, Rotschafer JC, Rodvold KA, Maples HD, Lomaestro BM. Executive summary with focus on pediatrics: therapeutic monitoring of vancomycin for serious methicillin-resistant Staphylococcus aureus infections: a revised consensus guideline and review by the American Society of Health-System Pharmacists, the Infectious Diseases Society of America, the Pediatric Infectious Diseases Society and the Society of Infectious Diseases Pharmacists. Pediatr Med 2020;3:17.